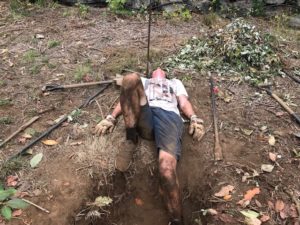 Working and sleeping in nature, making friends with people from all around the world, discovering the beautiful nature of the Canary Islands, and eating restaurant-quality meals twice a day. The is a beautiful situated in the green north on Tenerife.
At an altitude of 500 meters, the name is rather fitting, as the finca is home to numerous chestnut trees, which only grow in select regions and thrive at this altitude. But chestnut trees are not all you will find when exploring the oasis, no, you'll discover hundreds of amazing, exotic fruit trees and plants, such as avocados (lots of avocados), maracuja, plum trees, raspberries, strawberries, tree-strawberries (this one is interesting), and much much more.
I stayed at the finca for five weeks and slept in their lodge tent. I never knew I would be able to live in a tent for more than a month, but it was surprisingly comfortable (I even had my own beach chair as the only one). I only have one recommendation here: bring a proper sleeping bag. I thought "oh, I'm going to Spain, where it is 40 degrees in the summer, I don't need a thick sleeping bag". Boy, was I wrong. Even though the weather is perfect during the day, the temperature still drops down below comfortable levels at night often due to the clear skies, even in August, so don't be like me, and bring a warm sleeping bag.
The work at the finca is often quite simple, and depends on the season. I stayed through August and September and participated in several projects, such as collecting plums for mashing and brewing, an experience I will never forget. I even got to taste the product myself.
Furthermore, I helped develop the food forest by digging lots of holes and planting new trees. If you have never planted a tree before, I definitely recommend trying it out, as there is something indescribably beautiful about it. I think I planted 20-30 trees during my stay, and have certainly gotten a taste for it, and might even start improving my own garden at home.
Except for that, work may also include maintaining the finca with tasks such as moving rocks, creating swails for the permaculture, weeding, investigating 'reasons' for plants not growing (rocks), and general nurturing of the finca.
In conclusion, I had a really nice stay, learned many things and will definitely go again when the chance presents itself. If you decide to go, here are a few pro tips:
– A trip to Orotava takes ≈ 20 minutes by foot, and here you will find many cozy cafés, my favourites being Casa Verde (has free Wi-Fi and a friendly Mexican owner), bar parada on Plaza de la Constitución has amazing Barraquitos
(Canadian special coffee), any of the bars on Plaza del Quinto Centenario, and lastly Playa el bollullo is 100% the best beach in Puerto, but requires a bus trip and a bit of hiking to get to.
– Definitely go to el teide(the volcano), it was one of the highlights of my stay.
– Get a Titsa's card for the bus, it's way cheaper.
– The best cellular connection for making calls at the finca is at the gate.
– Admire the ocean view at least once a day
– Thank the chef.