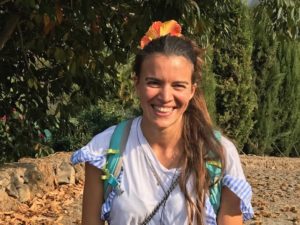 The Finca is like a paradise, where you can find new trees, vegetables and flowers every day. I lived in this beautifull place for 6 week….it was amazing!!
The work is easy and you can learn many thinks about permaculure. The task  given thoughtfully to fit to each person's abilities. The yurt is very comfortable and it is the perfect place where you can stay with other wwoofers. In the yurt there is a diary that i left there properly for wwoofers who want to share they story or just a message.
The owners are kind and very interesting people. The dishes of brunch and dinner are really good and aboundant, you can eat like a restaurant. You can taste typical dish of all Europe in chef`s style. My favourite is bruschetta with maracuja!!! It was incredible!!
The finca is close to the center of the next village which is one of the best typical Canarian villages. While you're walking from the finca to the center you will smell the perfume of molino de gofio and I suggest you to enter and buy this typical product of Canary Islands.
I'm truly grateful for this opportunity!!!!