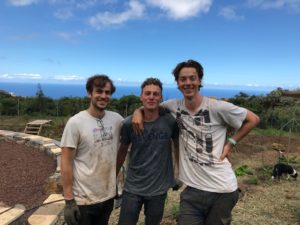 I stayed at the finca for three weeks. It was my first wwoof experience. Based on the many positive reviews and extended information  about the finca on their website, I decided to apply for a stay.
It have been really an amazing place with stunning views and perfectly suited to host volunteers. There are several exceptional buildings where volunteers can sleep during their stay.
The owners are taking a lot of effort to create a green paradise. They have a great knowledge about ecological farming and try to share this knowledge with the volunteers. I had the opportunity to joy them during a visit to a exotic plant nursery.
The work itself can be pretty hard and you will get dirty, but that's part of working in a garden.
At the start of the day we met each other at the finca, where the host explained the tasks for that day.
The four playfull dogs play an important role in the daily life and it was nice to have them arround during the day.
I had interesting conversations with the owners and the other volunteers.
Also I enjoyed the extended meals they offered. Lots of fresh vegetables and fruit from the garden.
I would like to thank you for the stay and I'm very curious how the food forest will look like in five years.